Bulk Edit
Download for free now from the App store
Download the latest .app package now to use on On-Prem and offline App Catalog sites.
Project Server Bulk Edit app enables the quick updating of project fields directly from PWA. Bulk Edit is designed from the ground up to take advantage of the features of SharePoint and Project Server 2013 for fast performance and easy edits of hundreds of projects at once.
Features
Selection of multiple Built-in and Enterprise Custom Fields for editing (only some built-in fields can be edited).
Excel style drop filter / sorting from column menus.
Cut and Paste one or more cell contents.
Excel style fill-down editing of field values.
AJAX / JSOM driven for fast viewing / updating of hundreds of projects at once.
Support Pages
Get support and information on known issues on the support site
Usage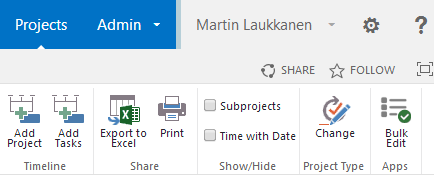 Once installed from the SharePoint App Store, the Bulk Edit icon becomes available on the Project Center ribbon menu under Apps.
Bulk Edit supports updating of all project level Enterprise Custom Fields for all projects that you can access.
Additionally Bulk Edit can be found in your list of all apps from the Settings menu under Site Content.
Once opened, simply select the custom fields you want to update and make your changes just like you would in Excel or MS Project.